Optimize Retail Operations with
Power of ITEMTRAC
Our experience over the past two years in AI & Vision Analytics has resulted in a solution platform that has a combined effect of helping our clients with process & profit improvements and supporting customer multi touchpoints across supply chain & logistics, retail operations and risk management. The time has come to bring new digitally inspired ways of thinking and working right into the heart of business systems, leveraging technology to automate, instrument, coordinate, and optimize activities not only at the outside edge of the organization but also throughout value chains and vital support functions.
The resulting platform is TechVision+ and ITEMTRAC is our solution aimed at optimizing retail operations. TechVision+ has a powerful combination of proprietary tools that can help our global clients to be successful in today's rapidly changing world of customer interaction and customer touchpoints. ITEMTRAC utilizes a combination of our client's current assets and our propriety software to enhance customer loyalty for our client's multi-channel retail operations. ITEMTRAC is focused on digitalizing retail and achieving transparency over the entire demand chain. Our initiative was driven by the demand for a strong return on investment (RoI), operational unit profit, customer loyalty and process improvement to have a digitalized team.
Planogram Compliance
Digital SKU Library (DSL) for Item comparison
Deep Learning, Image Processing & OCR techniques for Feature comparison
Alerts for Planogram non-compliance
Out of Stock Compliance
Deep Learning Models for detecting Empty Shelf Areas
Alerts for Stock Replenishment
TechVision+ ITEMTRAC
Planogram Compliance App
The intuitive and easy-to-use modular compliance suite will provide a digital catalog of all SKUs that can be used to ensure a consistent look for all touchpoints facing customer interaction from the physical stores, online images, detailed information for delivery and store pickup.
It has been well established that product placement impacts purchase behavior. Having the products in the right place maximizes sales and space productivity. Planograms are an important tool in any retail operation to maximize the selling potential from your shelf space. Our solution compares the shelf images with the planogram and raises an alert for any kind of non-compliance. This tool provides a view into each retail operation to ensure full compliance, easy exception handling and real-time feedback to merchants across the retail chain.
The Planogram App takes the time-consuming task of planogram verification to a very simple function of taking an intuitively guided picture of a fixture section and the advanced software will automatically provide real-time verification of compliance. A guided exception handling path will be provided to the user to ensure exceptions are addressed timely and can be tasked to owners to fix and provide real live feedback to merchants.
Ensure every product & promotion placement is accurate
It starts with a 360-degree capture of each product and building a Digital SKU Library (DSL)
DSL can be used across all customer touchpoints stores, apps, online & digital media
DSL data is used in planogram development, space allocation, pick & pack for online shipping & load optimization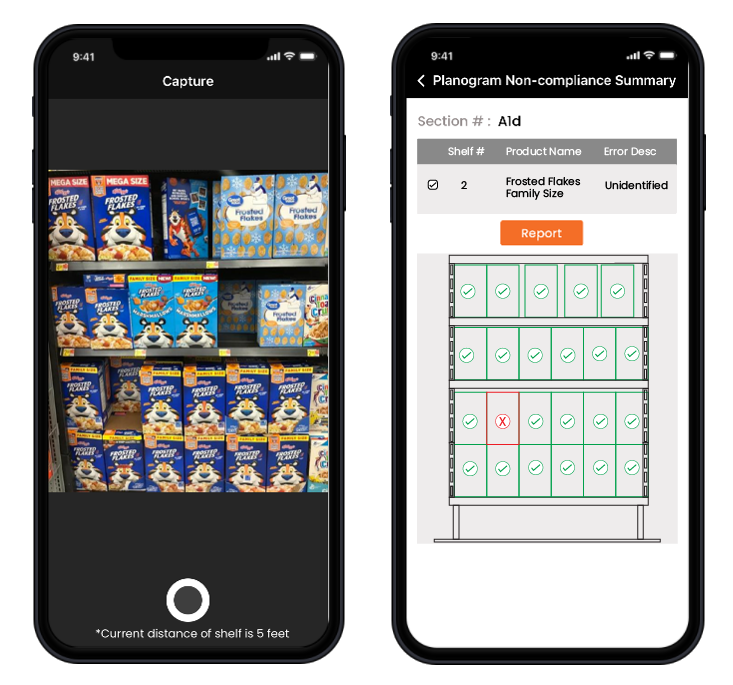 TechVision+ ITEMTRAC
Out of Stock Compliance App
The intuitive and easy-to-use OUT OF STOCK compliance suite has a set of powerful tools to ensure 100% customer loyalty, increase sales and productivity.
It has been well established that out of stock impacts purchase behavior and push consumers to make purchases decision with others. Having products in stock, maximizes your shelf space productivity, increased sale, profits and build a loyal customer base that will shop with your across multiple touchpoints.
Our powerful proprietary TechVision+ platform is the engine behind our Out of Stock Compliance App which enables our clients to process out of stocks by a simple act of taking a guided picture of a shelf section and provide instant notification of out-of-stock product(s) and provide simple action steps to address the problem.
Built-in, intuitive step-by-step guide for accuracy in use, training, help, search and online support
Customizable to meet clients' operations process to maximize productivity.
Empty Shelves Detected using Computer Vision
Our solution starts with a 360-degree capture of each product and building a Digital SKU library (DSL)
Deep Learning Model trained with a dataset
Using a smartphone or tablet to capture out of stocks
Guided exception handling
Auto pick list creation by aisle, section or client customizable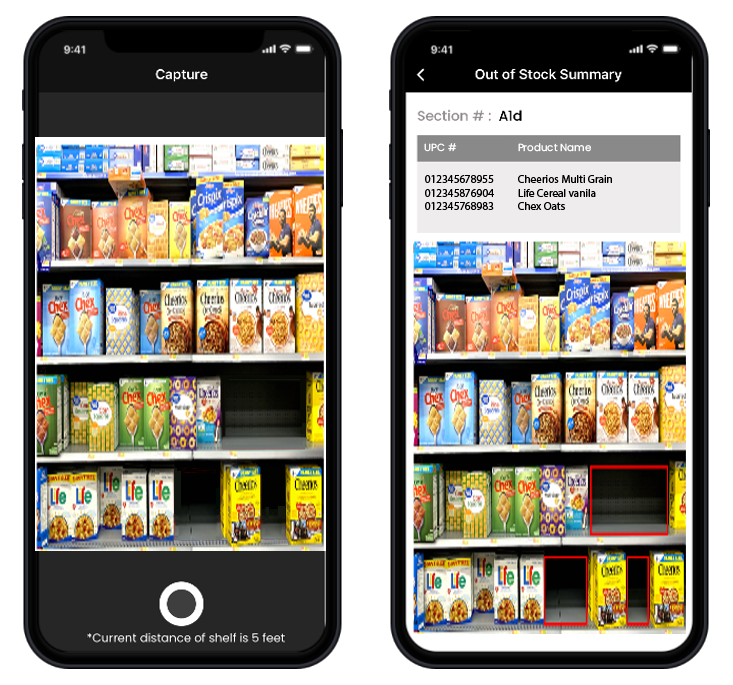 Features
Device
Use your Smart Phone or Tablet camera for capturing images of the shelves
Application
Intuitive step-by-step guide for accuracy in use
Includes App training, help, search & online support
The solution can be customized to align with your operational process
AI & Computer Vision
Our AI Vision technology matches the boxes on the shelf with the planogram and checks for non-compliance
In case of out of stock detection, it identifies empty space on shelves and raises an alert for replenishment
Cloud Storage
The Digital SKU library (DSL) is stored on a cloud platform
Deployment
The application is shared as an APK which can be installed on your mobile or tablet

Increase in Revenue

Ensure Customer Satisfaction

Increase in Productivity

AI for 360 Visibility