Overview
A reputed power and energy products manufacturing company with factories in Hyderabad, India approached us for an automated inspection of their PCB manufacturing process.
Tech Vedika has built the AI-powered inspection solution leveraging its TechVision+ platform using Cameras for capturing PCB views at different stages of the manufacturing process for component classification and defect detection & classification.
Requirements
Inspection of PCBs used in Battery Power Control and Train Collision Avoidance Systems

The manufacturing process comprises of both robotic machine automation as well as manual assembly stages

Small component size and high density of components in PCB requires high manual efforts

Need for automating the current QA Process for PCB Component Assembly to improve productivity and reduce defects
TechVision+ leverages 2D & 3D cameras that identifies and eliminates defective products before they can harm your brand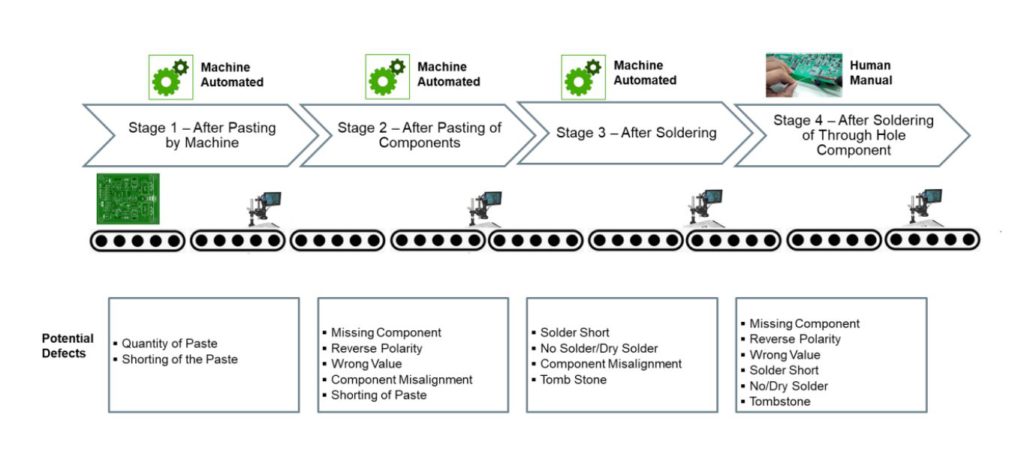 Platform Overview
TechVision+ Inspect is a next-generation platform utilizing intelligent vision in manufacturing PCB's with zero defects. Our smart vision-inspection provides benefits increasingly valued by electronic and component manufacturing companies including:
Barcode Reading and PCB Identification

Component Segmentation and Classification

Defect Detection and Classification

Component Assembly Verification

Component Presence or Absence

OCR for Component Information Capture
Intelligent Vision for Better Outcomes
TechVision+ ensures that each & every component, rather than a random sample of components, is inspected and avoids rejection and remanufacturing of entire batches while also reducing the likelihood of defective products being shipped.

Solution
Setup of Cameras for capturing the PCB images at each stage of the manufacturing process

Golden PCB Images used to compare the Test PCB Image for component verification and defect detection

Deep Learning and Vision Analytics Algorithms developed for Component Identification & Defect Classification

Leveraged PCB CAD files data for improving QA accuracy
BUSINESS OUTCOMES
QA Cycle Time improvement of 60-80%
Defect Detection accuracy improvement by 20-25%
Rework post-manufacturing eliminated completely
Benefits
Moved to an automated QA process where the product and its individual components are monitored, and quality tested as they are being manufactured

Elimination of random sampling of components and rejection and remanufacture of an entire batch

Adherence to manufacturing & regulatory standards

Increase in product quality and reduction of manual QA overhead