Overview
TechVedika has developed a platform for "Construction Site Tracking and Safety Management" for a UK based construction services organization. The purpose of the platform solution is to bring back employees and contract workers to work in a safe and secure fashion during the COVID 19 Pandemic.
The solution was built leveraging our People+ Workplace platform for allowing their employees and visitors to enter their premises in a secure and safe manner.
A platform was developed to be used by the Developers/Builders for tracking the workforce, both employees and contractors, in their construction sites. The sites are geo-fenced and have a BLE beacon at the entrance to track workers entering the site and leaving the site. In addition, the workers' locations are tracked only while they are working within the site.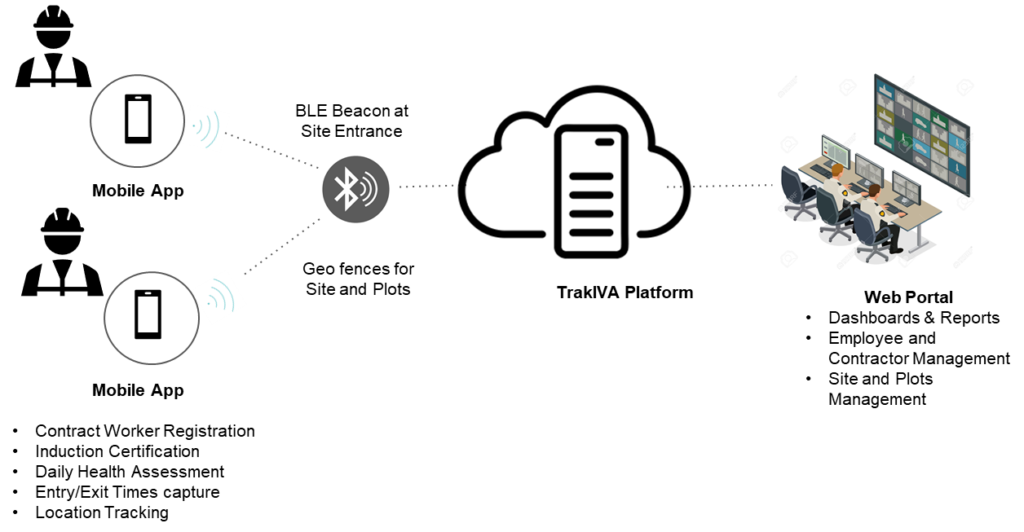 BUSINESS OUTCOMES
Improved employee safety by 80%

Contactless & Social Distancing accomplished

Improved overall well-being mindset of both leadership, HR, and employees
Features
A platform for Developers to track the employees and contractors working in their sites

Track Employee Entry/Exit times for a Site for capturing daily work hours

Real-time tracking of worker location in the Site and Plots for managing social distancing effectively

Ensure workers respond to Daily Healthcare Questions for COVID safety

Face Recognition, Mask Detection, and Temperature Checks at Site Entrance
Solution
BLE Beacons for detecting Site Entry/Exit times

Worker Mobile Phone and/or Pedestrian Tags for tracking Worker GPS coordinates in real-time

AI models for Face Recognition, Mask Detection

USB connected IR device for Temperature Check

Web Portal for Dashboards and Reports, and managing employees and contractors

Mobile App for Contractors for Registration and Induction
BLE Beacons for detecting Site Entry/Exit times

Worker Mobile Phone and/or Pedestrian Tags for tracking Worker GPS coordinates in real-time

AI models for Face Recognition, Mask Detection

USB connected IR device for Temperature Check

Web Portal for Dashboards and Reports, and managing employees and contractors

Mobile App for Contractors for Registration and Induction